On the side of the Advocate Print building in Rotorua, Mark Noble is working with a team to paint the largest known eco-friendly mural in Aotearoa.
Mark spoke to us about the project.
Mark, what are you and a group of youth working on right now?
We've started painting a large mural on the side of the Advocate Print Rotorua building, to be more precise, this is going to be Aotearoa's largest known eco-friendly mural.
Can you walk us through the stages involved in this project?
There are quite a few stages involved in bringing this mural to life. We started by water blasting the wall, followed by priming it and grid lining it (you may have seen the purple scribbles and words).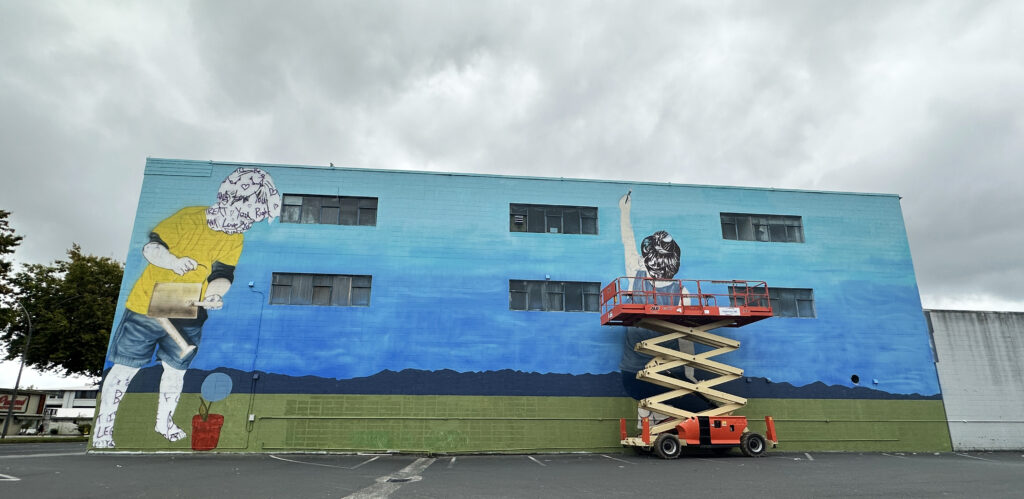 A few weeks into the six-week project, and with some colour, the mural is starting to come to life. 
How long do you expect it to take to complete the mural?
All up, the mural will take six weeks.
What are some of the key outcomes you're hoping to achieve with this project?
We have several goals in mind for this project.
a) Firstly, we want to add a splash of colour and vibrancy to Rotorua. We want this mural to be something that both the community members and visitors can enjoy.
b) We also want to make the mural eco-friendly – Aotearoa's largest known eco-friendly mural, which we hope will make Rotorua proud.
c) We're hoping to get viewers to think about our world, and how we want it to be for our tamariki.
d) To pass on my skills and knowledge to some youth, and give them an experience (painting a large mural) that encourages them to dream big.
If you're interested in learning more about the mural process, there's an upcoming mural process workshop at The Arts Village on Saturday, April 8th, 10 am – 11 am, all are welcome.
The workshop will cover the entire process from design ideas to painting processes.