We recently spoke to Jade Kent, Film Office Executive at Film Bay of Plenty, about the work that they're doing in the Rotorua community and what they aim to achieve.
Kia ora Jade, could you tell us about Film Bay of Plenty?
Film Bay of Plenty, Ngā Auaha Whakaari o Te Waiariki is the Bay of Plenty's Regional Film Office. We're here to grow, strengthen and support the screen sector in the Bay of Plenty.
This includes film, television, games, animation, high-end TV, branded content, vloggers/influencers, VFX, immersive tech, marketing, and communications.
We do this in Rotorua and the broader Bay of Plenty through marketing, attending industry events (here and overseas), providing training opportunities, and supporting regional production to source crew, locations, and infrastructure.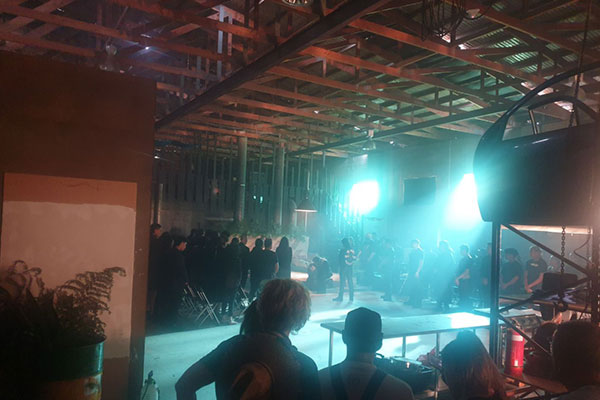 The business has many facets; no two days are the same. Our mission is to stimulate regional economic growth by attracting, facilitating, and marketing screen productions; developing the film sector for regional business; and maximising opportunities for regional film professionals.
Our region has great filmmakers and offers a strong and inviting package to producers and content creators outside the region. We're here to provide assistance and advocacy for productions. We connect them with an experienced film crew, film locations, and infrastructure and help with film permitting.
Could you tell us about the operational team at Film Bay of Plenty?
Jade Kent – From New Zealand to Qatar and then to the Eastern Bay, Jade has put some travel miles, and work experiences under her belt and the experiences she has gained are invaluable.
As a previous logistics supervisor working for Al Jazeera English, Jade knows how important a good foundation of people, systems and training is to any organisation. Having worked for TVNZ, Maori TV, Sky, and Al Jazeera, Jade's continuing passion for TV and film pushes her forward as she continues to pursue her passion for working with creatives.
Elysia Gibb has worked as the Film Bay of Plenty Production Supervisor since 2019. Before this, she split her life working between the film industry and tourism. She has worked as a coordinator on feature films such as The Hobbit, Wolverine, Yogi Bear and 10000 BC.
She also spent 15 years in Queenstown working in the Tourism Industry, evolving from a sales position, guiding, and successfully marketing and managing a heliskiing company.
Her skills lie in marketing, logistics, coordinating, networking, and administration. Presently, she balances life between being a mum, adventures, and work, bringing diverse skills to Film Bay of Plenty.
How has Rotorua Trust funding impacted your organisation?
Rotorua Trust funding has played a part in allowing us to provide training opportunities for interns and attachments through the Tohea training program, host (in collaboration with industry guilds), workshops and connections to industry leaders for those in the region.
In addition, it helps us serve the enquiries that want to film in the region. We encourage all productions to hire locals and provide them with a list of experienced crews that live in the area.
Plus, we are always looking for opportunities for career pathways for rangitahi, opening the door to a thriving market.
This funding has also played a part in helping us showcase the region to national and international producers.
The funding enables movement towards the tipping point where we will see a consistently thriving market here in Rotorua.
Film Bay of Plenty has been around since 2016. Could you share a couple of highlights along the way?
Providing support to the following productions, Muru – up for an award at the 2023 Academy Awards, The Volcano – a Leonardo Dicaprio and Ron Howard production, Vegas – a TV series shot in Rotorua, Nat Geo – Chubbie Diaries, Good Morning America,
The previous CEO worked tirelessly to support the set-up of Waiariki Studios, which is currently used for a feature film by Mike Jonathan & Piripi Curtis.
We've put the Bay of Plenty region on the map as a strong contender for production. We're known as an office that helps productions achieve their goals, whether in permitting, crew, locations or pre-production support.
We continue providing pathways and connections for those wanting to enter the industry through workshops, events, and work opportunities.
Film Bay of Plenty's year-round services include local employment, training, industry development and networking for filmmakers, storytellers, and content generators – could you tell us which aspect you'd like to raise awareness of in the future?
To continue to raise awareness of the region across all aspects, we must remember we're all on the same team, in the same waka.
No matter your production area, experience level, or success, we all want more production here.
This means we can do what we love and return to our whanau at night. It's important that we tautoko each other all the way, building on the combined skills we must make our region the ultimate filming destination.