Vote to make Rotorua a better place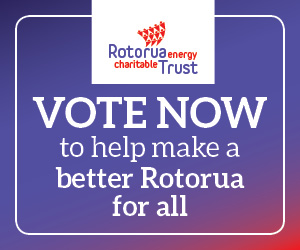 ---
What would you do if you had responsibility to make Rotorua a better place for all?
Whether its investing more in education or health, developing new community facilities or saving higher levels of funds for the future, now is your chance to have a say on who you think should act as guardian for the $160 million of funds Rotorua Trust is responsible for.
Voting packs for the elections will be sent to registered voters today, with voting open until midday November 23.
Rotorua Trust manager, Tony Gill says the elections are a crucial opportunity for the Rotorua community to have their say in whose vision they believe will make a better Rotorua for all.
"The decisions made by Rotorua Trust impact on almost every Rotorua resident. In the past three years alone, the Trust has approved more than $20 million in grants. At the same time they have grown the total Trust fund by a similar amount"
Mr Gill says in the current term the Trust has supported a diverse range of organisations and initiatives, from pledging funding to the rebuild of the Sir Howard Morrison Performing Arts Centre and Rotorua Museum, to extending education initiatives, supporting organisations working to create a more vibrant Rotorua and helping to keep the community healthy.
With elections held every three years, Mr Gill says voting in this year's election will help shape the make-up of Trustees, and ultimately the Trust's future direction.
"Those elected to the Trust have the opportunity to make a real difference in creating a better Rotorua for all. Even if you haven't had a direct association with the Trust, this is about choosing who you think will make decisions based on your values."
Mr Gill says voting is quick and easy.
"Registered voters will receive voting packs over the next week, with voting able to be done either online or via post."
If people haven't received their voting pack by the end of next week (November 8) they should call the electoral office on 0800 922 822 and request a special vote.
Back to top