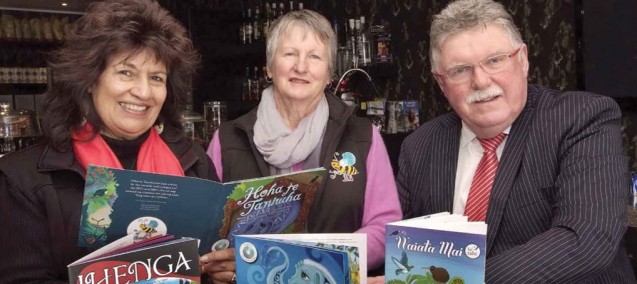 Well-known Rotorua identity Aunty Bea has achieved her dream of publishing and marketing a range of colourful children's books based around Maori stories.
The Ihenga Charitable Trust consists of Aunty Bea (Beatrice Piatarihi Tui Yates) and Gay Kingi, along with Katie Paul, a niece of Bea's who is a lawyer in Foreign Affairs.
Gay and Bea have years of teaching experience. Bea has taught for 50 years, including being the first Maori itinerant teacher in the Rotorua region. Gay was relief teaching when she discovered the treasure trove of Bea's writings stored in three big cartons in a room at Rotorua Lakes High School.
Converting these into books has been a labour of love for both women, and the task has resulted in two books being published initially and another two out with the help of funding from the Rotorua Trust to the tune of $10,000. A new book on Hinemoa and Tutanekai will be published with assistance from the trust and funding from the Ngati Whakaue Education Endowment Trust.
The books are colour renditions of stories, such as Hoho te Taniwha, in full colour with text in English and Maori. Each book comes with a CD containing songs written and sung by Bea with music by Rodger Cunningham. New editions are also being produced digitally.
The art work has been done by Katherine Quin Merewether, a Te Awamutu illustrator, whose work has grown with the projects into clever, sophisticated pictures for children and their parents.
"We find that the parents send us letters saying they are enjoying the books because they can understand them," Bea says.
"There are not enough simple and fun bilingual books out there and all we are doing is helping them to take up our reo, which is a taonga, in very simple steps first."
Gay says pre-school teachers cannot get enough of the books, because there is a dearth of similar material available, and the feedback the Rotorua Trust has received has been "absolutely fabulous".
"We are very grateful to the trust," says Bea, "they understand what we are on about."
For more information, contact info@auntybea.co.nz or go to the website: www.auntybea.co.nz