IN PROFILE
Rotorua's Homegrown Stories
In Profile – an in depth look at the life and times of our city's diverse community.
The Rotorua Trust has commissioned long-time local journalist Jill Nicholas, and international and national award-winning photographer Stephen Parker, to capture the stories of local people.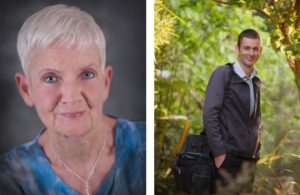 In Profile delves into the backgrounds of people from a variety of age groups, occupations and cultures. With her well-honed skill for story-telling, Jill will highlight these people's achievements, aspirations, and talents, alongside their highs and lows.
Launching on 19 June 2021, the series will be updated every second Saturday with Stephen bringing Jill's written words to life through video and photography.
First to feature are Miss Rotorua 2020, a World War II veteran who served in five armed forces, a woman who was alerted by a supernatural portent that her third cancer battle was looming and a man whose career has spanned three sides of the law. Keep an eye on their Facebook page to stay up to date.
Rotorua Trust Chairman, Stewart Edward, says commissioning Jill and Stephen to profile locals was seen by trustees as a community service and an invaluable way of acknowledging the contributions Rotorua locals have and continue to make within the community.
"The Trust saw this project as complementary to the excellent historical coverage provided in earlier times to the Trust by historian Don Stafford and filmmaker Kerry Fowler.
"In Profile is an ideal platform to capture local personalities and inspire a new generation through sharing the stories of our people.
"So often, our humble 'community heroes' go unnoticed for the many and varied projects they champion to make a better Rotorua for all.
"Jill and Stephen's work showcasing them will bring their hard work and dedication to the forefront."